BRIEF HISTORY OF ISLA DE VIEQUES, PUERTO RICO
Studies show that Vieques was first inhabited by Native Americans who came from South America about 1500 years before Christopher Columbus set foot in Puerto Rico in 1493. After a brief battle, the Spaniards took control of the island, turning the locals into their slaves. In 1811, Don Salvador Melendez, then governor of Puerto Rico, sent military commander Juan Rosello to begin what later became the take-over of Vieques by the people of Puerto Rico. In 1816, Vieques was visited by Simón Bolívar. Teofilo Jose Jaime Maria Gillou, who is recognized as the founder of Vieques as a town, arrived in 1823, marking a period of economic and social change for the island of Vieques.
By the second part of the 19th century, Vieques received thousands of black immigrants who came to work on the sugar plantations. Some of them came as slaves, and some came on their own to earn extra money. Most of them came from the nearby islands of St. Thomas, Nevis, St. Kitts, St. Croix and many other Caribbean nations.
During the 1940s the United States military purchased 60% of the land area of Vieques including farms and sugar plantations from locals. This left many locals without employment options, many were forced to emigrate to the mainland of Puerto Rico and St. Croix looking for a home and employment. For six decades the United States military used Vieques as testing grounds for bombs, missiles, and other weapons.
The World Socialist Website (WSWS), an opponent of US military and foreign policy, reports that "Over a third of the island's population of 9,000 are now suffering from a range of cancers and other serious illnesses." WSWS links these cases of illness to the US Navy's target practice on Vieques. The cancer rate is reportedly about 25% higher in Vieques than on the main portion of Puerto Rico. Non-politically motivated sources refute these claims and the Puerto Rico government studies show a fractionally higher incidence compared to the main island, enough to fall within statistical irregularities.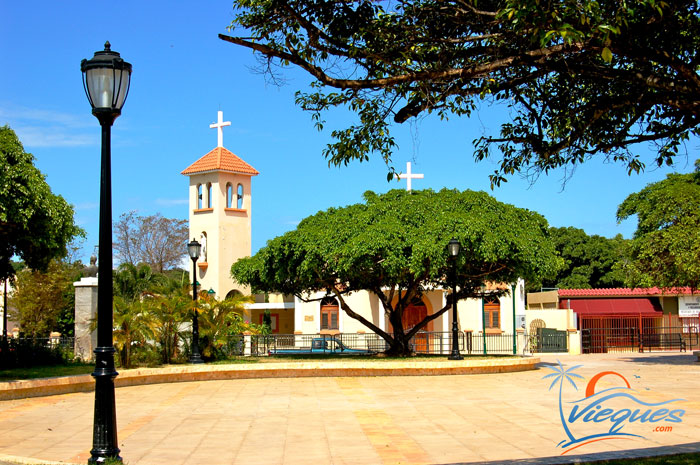 In March 1999, Vieques native David Sanes was killed by a bomb dropped by a military jet during bombing exercises. As a civilian employee of the Navy, Sanes was on duty at a military Observation Point when two bombs fell 1½ miles (2½ kilometers) away from their designated target; one of them fell 300 feet (100 meters) away from Sanes and exploded, killing him instantly.
In 1999, then-Governor Pedro Rosselló began talks with the U.S. government seeking for a solution to the problem. In 2001, Governor Sila María Calderón signed a treaty with President George W. Bush that guaranteed the military's exit of the island in May of 2003.
Young Milivi Adams, a Vieques native who was a cancer patient, became the protester's symbol child in their quest to liberate the island of the bombings. On the morning of November 17, 2002, she died.
On May 1, 2003, the military commenced their exit out of Vieques, an event covered by media worldwide. At 12:01 AM EST of that day, a street party erupted all over Vieques celebrating the military's move out of the island. The celebration turned violent as celebrants destroyed $750,000 of facilities turned over to the local government by the U.S. Navy.
Ever since that day, things have been tranquil on the island with no more violent protests. The Navy gave $40 million in direct funds which are now being used to improve the infrastructure of the island. Tourism is increasing and Vieques rapidly became a popular tourist destination. The lands previously owned by the Navy were turned over to the U.S. National Fish & Wildlife Service for management. The immediate bombing range area on the eastern tip of the island suffers from severe contamination but the remaining areas are mostly open to the public, including many beautiful undeveloped beaches which were closed during the recent protests.
KEY FIGURES OF THE MOVEMENT AGAINST THE MILITARY IN VIEQUES
David Sanes, whose death triggered the outrage of those citizens who want the military out of Vieques.
Tito Kayak, one of the most outspoken leaders of the movement against United States military presence in his native island-city. Kayak gained great notoriety after the 1999 death of David Sanes, when a group of Vieques natives and people from all over Puerto Rico and from some other countries began protesting. He and Ismael Guadalupe are often pointed out by newspapers such as El Nuevo Dia and El Vocero as two of the main leaders of those who wanted the military out of Vieques, and he has been interviewed several times by both newspapers. On November 5 of 2000, he and five other Vieques activists stepped onto the top deck of the Statue of Liberty in New York in protest. Kayak then placed a Puerto Rican flag on the statue. For this action, Kayak faced federal charges and he was jailed in New York. Before being arrested for that, he had been arrested in Puerto Rico for trespassing military property in Vieques, and after extinguishing his Puerto Rico sentence at a jail in Guaynabo, he was extradited to New York.
Ismael Guadalupe, another anti-military movement leader
Milivi Adams (1997-November 17, 2002) was a young cancer patient from the island of Vieques in Puerto Rico, became a symbol in the battle against the presence of the military in that island. Milivi was diagnosed with cancer at the age of 2, and a high level of foreign chemicals were found in her blood. Many people have blamed the military's bomb testings in Vieques as the cause for those chemicals to be present in her blood, although that opinion is based on ideas and not specific scientific findings.
Ruben Berrios President of the Puerto Rican Independence Party, arrested and imprisoned for three months in jail for civil disobedience in Vieques.
Source: Wikipedia
https://simplybridges.com/wp-content/uploads/2022/06/Bol._Mercantil_-_Isla_de_Vieques.jpg
369
640
Gingie
https://simplybridges.com/wp-content/uploads/2023/01/IMG_6B25C825B2E9-1-300x93.jpeg
Gingie
2022-06-10 18:23:47
2022-06-12 19:34:02
BRIEF HISTORY OF ISLA DE VIEQUES, PUERTO RICO